Motorsport Model and Promotions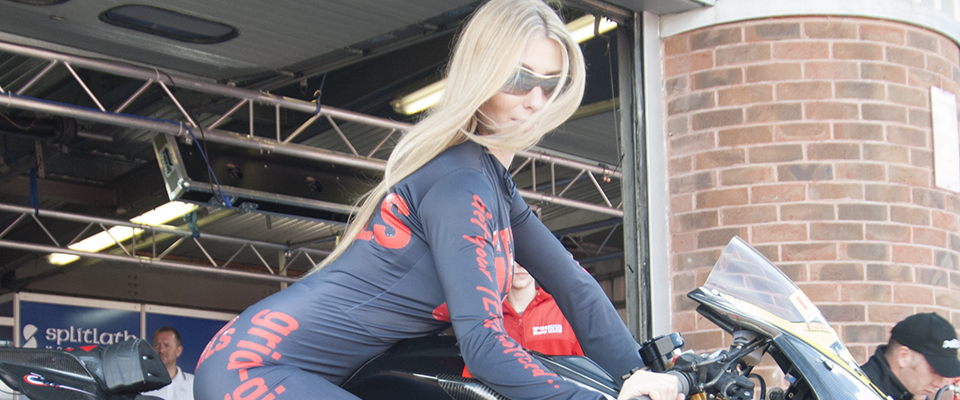 UK based Grid Girls and Motorsport Models
If your a company needing grid girls, hotesses or motorsport model to promote your products at any of the races, track day, products launch or company open day get in touch.
Grid Girls UK was established in 2008 and has since become one the premier agencies in the UK supplying grid girls, motorsport models, podium models, pit-lane models, hostesses and Promotional Models.
This has meant we have lots of experience providing female exhibition and promotional models  be it to large scale or smaller events. Over the years we have supplied grid girls to such events as. MotoGP, British Touring Cars, MINI Challenge, Britcar, MXGP, British GT, GT CUP, Blancpain GT, World Superbikes and British Superbike Championships, and many other race events.
We will supply you motivated, proactive and reliable models, individually screened to make a lasting, positive impression for any event, unlike a number of agencies we do not open our call outs to anyone on social media.
We can supply the same grid girls for the whole season which is the more expensive option as would require hotels and travel or as a cheaper option supply them for individual rounds.
Another option to save you time would be for a fee we offer full-service option where we will the manage girls at the track make sure they're where they are supposed to be and on time.
To get a quick quote fill in our quote form at the bottom of the page or follow this link
In an age when a social media presence is vital in motorsport to engage with fans and sponsors alike. We feel this is a very important area, unlike other agencies we are also interested in promoting our clients as much as ourselves.
We also offer free as part of the package we offer we will promote you before, during and after the event on our website and social media sites.
Twitter
Main Account – @gridgirlz
Dedicated accounts – @BTCCGridGirlsUK
Dedicated accounts – @GTGridGirls
Instagram
Main Account – @gridgirls (below)
Dedicated accounts – @BTCCGridGirls
Dedicated accounts – @GTGridGirls
Facebook
Main Account – @gridgirlsUK
Dedicated accounts – @BTCCGridGirlsUK
Dedicated accounts – @GTGridGirls
We also now have a dedicated news section on our website where we can post news sent to us from our ongoing clients http://grid-girls.co.uk/gridgirlnews/ (temporarily closed due to COVID-19
Bike Racing – Special Offers
For our motorcycle racing clients we will also feature you in a featured teams section on long established motorcycle racing news website:
Where we can post your latest press releases news for our ongoing clients in the Featured Team Section
What we do at Vitesse Angels Models
If you choose to use our services the dedicated team at Vitesse Angels will ensure that each assignment, large or small is given the full attention it deserves. We pride ourselves in our ability to build a comprehensive understanding of our clients' requirements, thus enabling us to provide a tailored service to suit each individual assignment.
We represent many experienced models, events staff across the UK, for all manner of assignments. Whether it's a nationwide marketing campaign or a nightclub launch, an exhibition or a corporate event, Vitesse Angels can provide the models to make an impact!
Specialising in supplying female exhibition models at many of the large exhibition venues in the UK like Birmingham NEC, London Excel, Manchester Central, Alexandra Palace, Event City Manchester, London Olympia, Peterborough Arena and many more.
We have supplied models too many of the large shows like Autosport, Motorcycle Live, Bodypower, London Motorcycle Show, Lux Live, London Boat Show, Southampton Boat Show, ICE Total Gaming, London Affiliate Conference, Grand Designs Live, Insomnia Gaming Show, Classic Car Show, CVS (Commercial Vehicle Show) to name but a few.
Amongst many of our clients are Orbital Foods, Pirtek UK, Forever Rally, Excelr8 Motorsport, Biker T-Shirts UK, GT Marques Racing, Rizla racing, IBA Boxing, Dunelm Optical, Suzuki Motorcycles, Monster Energy, Carole Nash, Just 1 Helmets, ESPN UK, VIP Design London, UFC Fight Pass, Sili Sunglasses, Golf Pairs, TES Environmental Services, various Vape companies, various Gaming companies and many more.
We deal in a competitive business if you forward us your quotes so far we will aim to at least match them and provide you with a personal service the other companies cannot compete with.
Many Thanks for taking the time to read through Vitesse Angels details. We hope to be the future agency of choice you can certainly rely on.
To get a quick quote fill in our quote form to your right (on desktop computer) or at the bottom of the page (if using a mobile) or follow this link
Follow us on social media: